Welcome to PFP's weekly studs and duds fantasy recap for the 2021 football season! Here we take a look at some of the standout performances, both and good and bad, from Thursday's and Sunday's contests. These are more instant reactions rather than in-depth analyses, with things to keep in mind as the season progresses. Let's see who took to the skies and who bottomed out in Week 6! You can check out Week 5 here.
Players Who Soared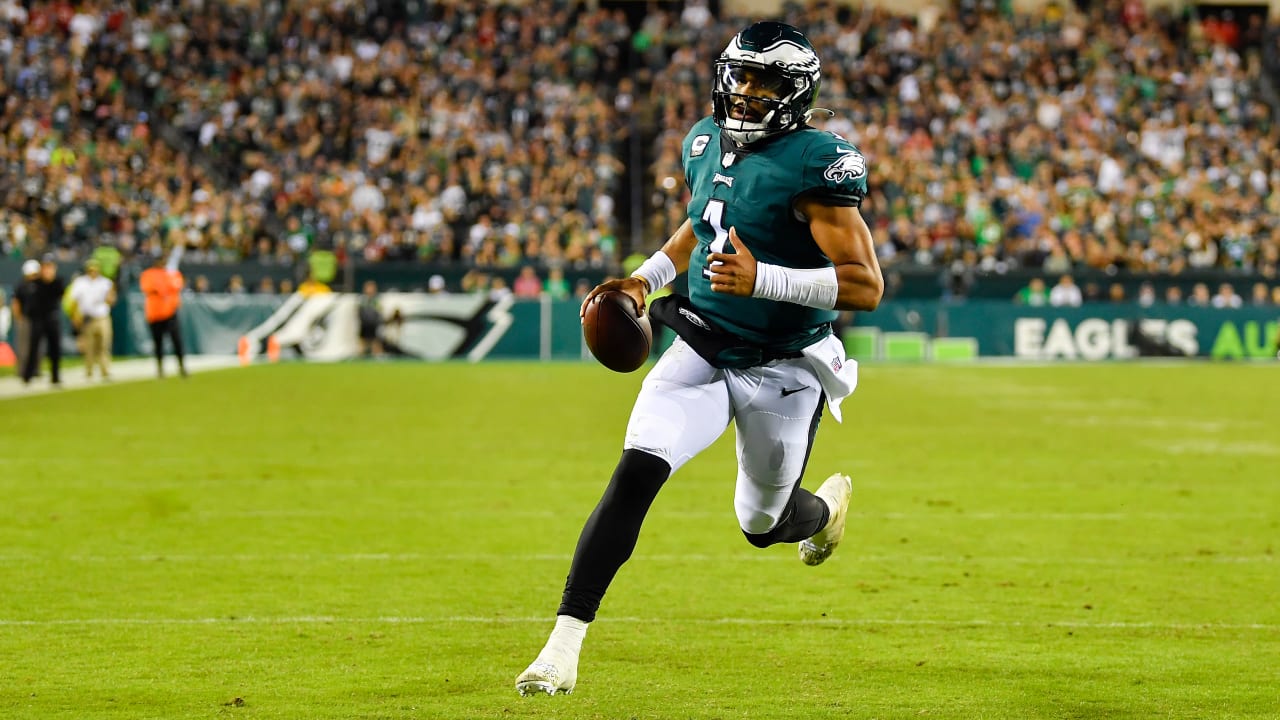 Quarterbacks
Kirk Cousins: 33/48, 373 passing yards, 3 pass TDs, 2 rushes, 16 rushing yards
After two down weeks Cousins had a strong showing against a Panthers defense that couldn't make up for Sam Darnold's (17/41 for 207 and 1 TD with 1 INT passing, 4 for 48 rushing, 1 fumble lost) struggles. Having Dalvin Cook (29 for 140 and 1 TD rushing, 2 for 3 receiving) back in the lineup certainly helped, which opened up the playbook in a big way. Cousins has been very consistent this year but certainly relies on a powerful running game to keep defenses honest. Luckily, Cook is one of the toughest players in the league and will play through all but the worst injuries to support his quarterback. Look for Cousins to put another quality showing in coming off the bye against Dallas in Week 8.
Jalen Hurts: 12/26, 115 passing yards, 1 pass TD, 1 INT, 10 rushes, 44 rushing yards, 2 rush TDs
It takes a special kind of player to look as bad as Hurts does on the field and still be a fantasy powerhouse. His ability to overthrow his receivers and make poor mental decisions in Philadelphia's run-pass option (RPO) scheme is truly impressive to watch. Eagles fans must be screaming their heads off to let Miles Sanders (9 for 56 rushing, 2 for 10 receiving) touch the ball more to help create more opportunities for Hurts. Hurts has yet to start a full season's worth of games in his young career, but his career path is unsustainable. He needs to show more as a passer in his next two matchups against Las Vegas and Detroit.
Patrick Mahomes: 32/47, 397 passing yards, 2 pass TDs, 2 INTs, 3 rushes, 31 rushing yards
The Super Bowl hangover has been hitting Mahomes hard this season. To put it nicely, he has an uncharacteristic 8 INTs this season, more than he finished with the previous two seasons. Despite the obvious struggles, the talent continues to shine through when asked to keep a game from getting out of hand. His second-half looked so much better than his first half, leading the Chiefs on some impressive-looking drives to keep Washington at arms reach. If he can keep that momentum going through his next couple of matchups he should be back to his blow-out ways without any trouble.
Others of Note
Running Backs
Jonathan Taylor: 14 rushes, 145 rushing yards, 2 rush TDs, 1 reception, 13 receiving yards
Taylor has exploded the last two weeks, following his massive receiving performance against Baltimore last week by running all over Houston. He averaged over 10 yards a carry and literally carried the Colts' momentum throughout the entire game. Carson Wentz (11/20 for 223 and 2 TDs passing) focused on efficiency and minimizing mistakes while Taylor keep the offense humming. The second-year back has started to stabilize his role and will be a high-upside option over the next few weeks.
Leonard Fournette: 22 rushes, 81 rushing yards, 2 rush TDs, 6 receptions, 46 receiving yards
Any concerns about Ronald Jones (5 for 20 rushing, 1 for 9 receiving) taking away work from Fournette have essentially disappeared. Fournette dominated the snap count and was relied on at the goal line multiple times in this contest. He is the defacto #1 back in one of the best offenses in the league and should be treated as such. His efficiency can be spotty but his floor is rock solid with his involvement in the passing game. Continue riding Fournette with confidence, even with two less than ideal matchups before the bye week.
Joe Mixon: 18 rushes, 94 rushing yards, 5 receptions, 59 receiving yards, 1 receiving TD
This was an important game for Mixon. He took advantage of a soft matchup and also showed toughness in the wake of recovering from injury. Mixon passed every test with flying colors. The Bengals offense allows Mixon to thrive while defenses are constantly trying to keep Ja'Marr Chase (4 for 97 receiving) from going over the top (and mostly failing). He has a tough test next week in a divisional matchup in Baltimore, so it'll be interesting to see how he performs in a more hostile environment.
Others of Note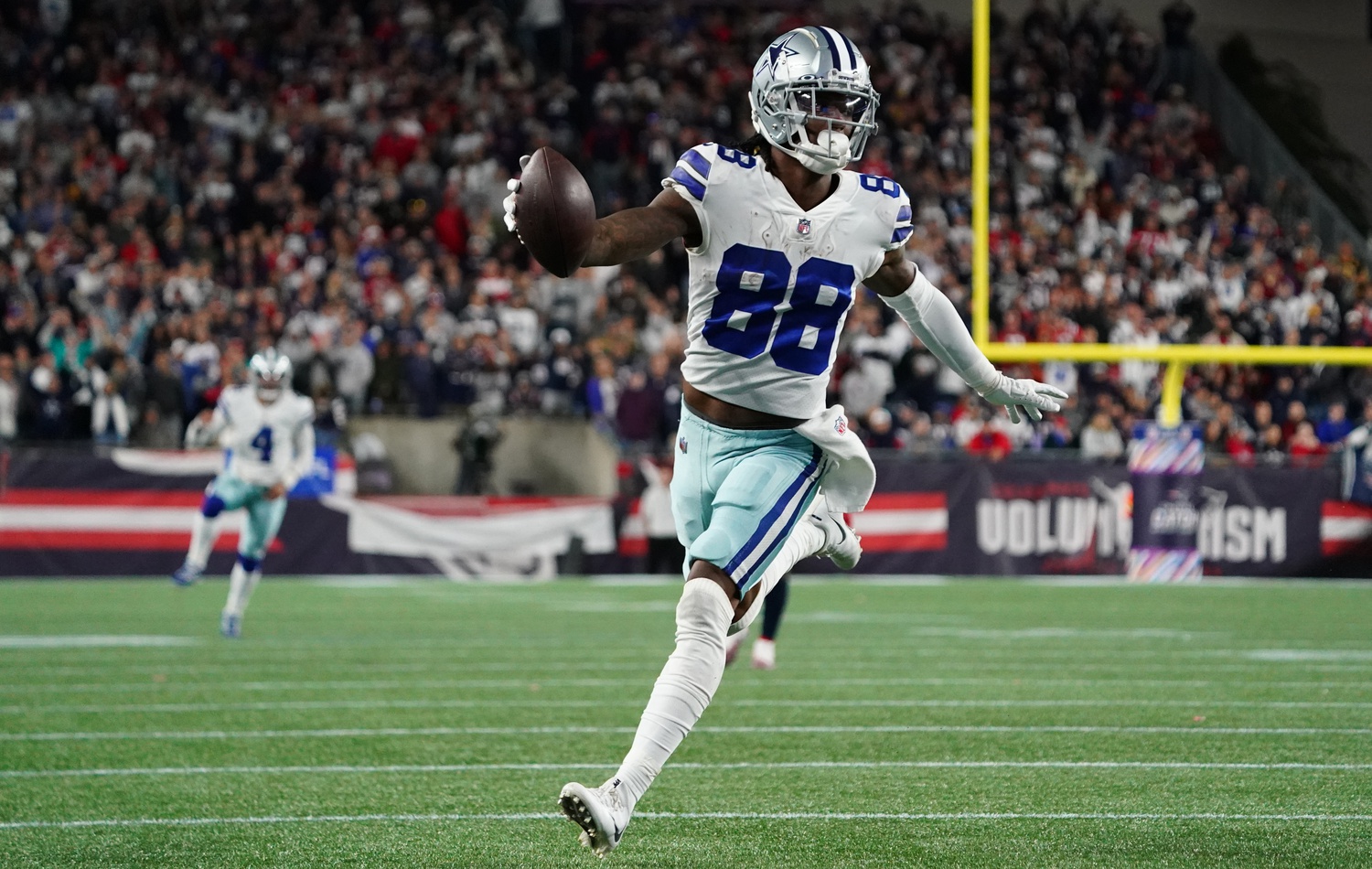 Wide Receivers
CeeDee Lamb: 9 receptions, 149 receiving yards, 2 receiving TDs
Lamb took full advantage of a struggling Patriots passing defense by absolutely torching them this game. He out-targeted Amari Cooper (5 for 55 receiving) for the third time this season, continuing the dance between one of the best wide receiver tandems in the league. Lamb has certainly looked more explosive than Cooper so far and could easily start stealing more and more snaps and targets as the season goes on. As Dallas continues to hum going into the bye week, look for Lamb to hold his WR1 upside through the break.
Adam Thielen: 11 receptions, 126 receiving yards, 1 receiving TD
It's nice to see that Thielen can still produce these types of games from time to time. It's also a needed reminder for fantasy owners that he's still one of the best red-zone threats in the league, even as Justin Jefferson (8 for 80 receiving, 1 fumble lost) takes away some of his upside. Thielen came down with a season-high in targets, receptions, and yards against a defense that should have posed more of an issue for this offense. As with Cousins earlier, Cook is really what makes this offense hum and allows for these games to happen. The Vikings head into their bye week to work on getting fully healthy before a prospective shootout against Dallas.
Donovan Peoples-Jones: 4 receptions, 101 receiving yards, 2 receiving TDs
Peoples-Jones' standout performance this week was propped up by a 57-yard hail mary TD to end the second half. It could be tempting to pick him up off waivers after two straight weeks of flex-level play and with Odell Beckham (5 for 79 receiving) still not truly breaking out. However, it's important to remember Jarvis Landry is coming off IR soon and this is still a run-first team. Peoples-Jones is nothing more than a cheeky DFS play on a week-to-week basis.
Others of Note
Tight Ends
Noah Fant: 9 receptions, 97 receiving yards, 1 receiving TD
Fant has had an up and down season for most of 2021 so far. The third-year tight end was someone that the fantasy community expected to break out this season but hasn't quite lived up to the hype. This week in particular came from some garbage-time production as the Broncos were trailing for most of this game. He's still commanding a 20%+ target share from Teddy Bridgewater (35/49 for 334 and 3 TDs with 3 INTs passing, 2 for 9 rushing, 1 fumble lost), but his upside is limited due to the inconsistent Broncos offense.
Mike Gesicki: 8 receptions, 115 receiving yards
Gesicki was the biggest beneficiary of the slew of wide receiver injuries the Dolphins had entering this game. He was able to sustain the favorable target share he had even with Tua Tagovailoa (33/47 for 329 and 2 TDs with 1 INT passing, 3 for 22 rushing) coming back from his injury. He's a top-10 WR in PPR formats due to high volume with limited scoring upside on a struggling team but has found use as an efficient security blanket. He will maintain his TE1 status as the season continues.
Others of Note
Players That Got Floored
Quarterbacks
Daniel Jones: 29/51, 242 passing yards, 3 INTs, 3 rushes, 4 rushing yards, 1 fumble lost
The concussion that Jones suffered in last week's game against Dallas must have factory reset the Giants quarterback to his 2020 form. These were his first true interceptions of the season, adding two fumbles while not feeling pressure in the pocket for a good amount of the game. His offensive line did let him down, and he lost Kadarius Toney early on to a reaggravated injury, but Jones took some big mental steps back this week. He'll need to regain all that lost progress quickly to have any chance of having a quality fantasy performance next week against Carolina.
Taylor Heinicke: 24/39, 182 passing yards, 1 pass TD, 1 INT
This was a truly disappointing game for Heinicke. The Washington quarterback had a glorious breakout opportunity against the league's worst defense but was unable to keep pace with Mahomes and the Chiefs. He did just enough to make sure he wasn't the reason they lost the game and that was it. Unfortunately, this means Heinicke's fantasy ceiling is capped moving forward. He'll need to prove he can do more for this offense if he doesn't want to lose his job once Ryan Fitzpatrick is cleared to return.
Justin Herbert: 22/39, 195 passing yards, 1 pass TD, 1 INT, 2 rushes, 12 rushing yards
The Ravens defense found a way to stifle the young superstar, making him look absolutely pedestrian following his huge outing last week. Herbert was unable to get anything going while their opponent was keeping all of his major weapons in check. This is the lowlight following the highlight of the previous game, and one Herbert will look to forget going into the bye.
Others of Note
Running Backs
Myles Gaskin: 5 rushes, 9 rushing yards, 2 receptions, 5 receiving yards
It's become very apparent that Gaskin is not benefiting from any positive game scripts this season. Even when Miami controls the game, they refuse to give Gaskin opportunities to gain meaningful yardage. He is not built to be the running back sent between the tackles like he's currently being used. The most disappointing aspect is that with multiple receivers out due to injury he couldn't establish any usefulness there, even with six targets. Fantasy owners need to fade Gaskin and the rest of the Dolphin's backfield for their own sanity.
Antonio Gibson: 10 rushes, 44 rushing yards, 2 receptions, 0 receiving yards, 1 fumble lost
Gibson fell hard in this one. The combination of a nagging shin injury and a very negative game script led to J.D. McKissic (8 for 45 rushing, 8 for 65 receiving) taking over the backfield for many of the meaningful snaps in this game. With the way Washington's defense has performed this year, this may be more common moving forward than Gibson's owners would be comfortable with. Hopefully, this team can start turning it around after their week 9 bye, but right now expectations have to remain low.
Others of Note
Wide Receivers
Mike Williams: 2 receptions, 27 receiving yards
The stat line is very concerning, but totally understandable given the situation. Williams was still recovering from his injury and the Ravens had every answer for this offense. The good news is that Williams didn't appear to suffer any setbacks during the game. He has the bye week to completely heal up before returning to his normal WR1 self.
Terry McLaurin: 4 receptions, 28 receiving yards
The wide receiver floored section has a very strong "don't panic" theme this week. McLaurin was also fighting off an injury and Heinicke wasn't doing the passing game any favors to try and breathe some life into it. There are better days ahead for this offense as a whole, and McLaurin will remain a huge part of it. His 32 targets over the last three games are strong evidence of that.
Others of Note
Tight Ends
Jonnu Smith: 1 reception, 9 receiving yards
Smith was never expected to be a workhorse tight-end going into the season, but even those lowered expectations haven't been met. Outside of his lone score in Week 4, he's been practically invisible in an already barren Tight End landscape. Hunter Henry's (2 for 25 and 1 TD receiving) emergence as a scoring-upside option in the offense has put the final nail in the coffin for the former Titan. Barring an injury to Henry, Smith doesn't hold any long-term value in redraft leagues.
Others of Note
Be sure to follow Pro Football Press for more Fantasy and NFL content!