Welcome to PFP's weekly studs and duds fantasy recap for the 2021 football season! Here we take a look at some of the standout performances, both and good and bad, from Thursday's and Sunday's contests. These are more instant reactions rather than in-depth analyses, with things to keep in mind as the season progresses. Let's see who took to the skies and who bottomed out in Week 3! You can check out Week 3 here.
Players Who Soared
Quarterbacks
Sam Darnold: 26/39, 301 passing yards, 2 pass TDs, 2 INTs, 6 rushes, 35 rushing yards, 2 rush TDs
Darnold has turned into Ryan Tannehill 2.0, escaping the clutches of Adam Gase and blossoming into the above-average to great QB he was perceived to be coming out of USC. Darnold has three consecutive games with over 300 passing yards along with five total rushing TDs. Joe Brady's offensive playcalling has opened up Darnold's playmaking ability and allows him to command this surprisingly competitive Panthers team even without Christian McCaffrey. He will once again be in the QB1 conversation when they host the Eagles next week.
Matt Ryan: 25/42, 283 passing yards, 4 pass TDs, 1 rush, 17 rushing yards
The 36-year-old Falcons quarterback shows he hasn't quite fallen off the cliff yet, but his consistency is still very suspect. He made a couple of nice throws this game, including a beauty to Cordarrelle Patterson (more below) in the end zone early on, but he still looked a little shaky at times. Ryan is very much a matchup-dependent streaming option this year, with an intriguing matchup against the New York Jets next week. The Jets don't typically give up a lot to the QB because they get eviscerated on the ground, but the Falcons may have to beat them through the air without a very confident running game.
Daniel Jones: 28/40, 402 passing yards, 2 pass TDs, 1 INT, 4 rush, 27 rushing yards
See Jason Garrett? This is what happens when you start opening up the playbook. The Giants' offense looked much better tonight compared to the beginning of the season, and that includes Jones who took huge steps forward (literally) fixing his pocket awareness and mobility in the backfield. It led to a fantastically managed game with some mistakes that weren't too costly (the INT was on a last-second hail mary to close out the first half). With Dallas, the Rams, and Carolina next on the schedule, he'll need to prove that he can maintain this progress through some tough matchups, but this Saints defense was a great litmus test for him as a player.
Others of Note
Running Backs
Cordarrelle Patterson: 6 rushes, 34 rushing yards, 5 receptions, 82 receiving yards, 3 receiving TDs
The 30-year-old "running back" has been the Falcons' secret weapon through the first four weeks of the season. His run after the catch abilities from his kick returning days has made him a dangerous weapon out of the backfield as a very reliable check-down receiver for Ryan. He even showed some great body control on one TD catch in the endzone as well. He's averaging 7 targets and 70+ receiving yards a game and has already matched his career-high in receiving TDs in four weeks. If he starts siphoning more work away from Mike Davis (13 for 14 rushing, 2 for 12 with 1 TD receiving) he could be this year's league winner off waivers.
Saquon Barkley: 13 rushes, 52 rushing yards, 1 rush TD, 5 receptions, 74 receiving yards, 1 receiving TD
The stat sheet for Barkley today would seem very uninspiring if it was cut off after the third quarter. Thankfully for the Giants, he came alive when it mattered most. He torched Marshon Lattimore for a 54-yard score to keep the game close, and then plowed his way forward for the overtime winner from the 6-yard line. Barkley has been looking more and more healthy as the weeks go on, as evidenced by his increasing snap counts. Unfortunately, he is still showing the boom-or-bust tendencies that have plagued him since joining the league. The Giants will need to get better at blocking upfront, otherwise, Barkley's owners will continue to see highs and lows from this freakish athlete as the season continues.
James Robinson: 18 rushes, 78 rushing yards, 2 rush TDs, 1 reception, -2 receiving yards
For the second week in a row, Robinson made sure to show new head coach Urban Meyer why he had so much promise in his breakout rookie season last year. With Carlos Hyde being a healthy scratch before the start of the game, this is a huge indicator that they're looking to feature Robinson more. A 95% snap count in a game that was competitive throughout is another huge check in that box as well. Owners who stuck with him through the iffy first couple of weeks are about to be rewarded for remaining faithful.
Others of Note
Wide Receivers
Tyreek Hill: 11 receptions, 186 receiving yards, 3 receving TDs
After a couple of disappointing weeks, it was refreshing to see Hill return to his absolute blowout form. He had no trouble at all blowing the top off of the suspect Eagles secondary, with scoring plays of 6, 12, and 44 yards. His floor isn't the most secure compared to other high-end receivers, but his ceiling is unquestioned in the Andy Reid & Mahomes offense. He's a must-start WR1 every week to avoid missing out on these week-winning performances.
DJ Moore: 8 receptions, 113 receiving yards, 2 receiving TDs
The former first-round pick continues to improve on the one thing that held him back in his first three seasons; finding the endzone. The targets and yardage are nothing new for Moore, but now with Darnold at the helm, the offense has opened up enough to allow Moore to thrive. The absence of McCaffrey doesn't hurt either, but Moore's TDs are coming from outside the red zone, meaning even when the star running back returns Moore's value won't diminish. He has a high WR2 floor every week until further notice.
Randall Cobb: 5 receptions, 69 receiving yards, 2 receiving TDs
Similar to Emmanuel Sanders last week, Cobb is a sneaky weekly start if you need a high-upside flex play. Cobb also has the distinction of having previously rapport with his current QB that Sanders doesn't have. This is all today that you shouldn't expect this every week from Cobb, who had more targets today than the first three weeks combined. look for him to be more of a sneaky DFS play in plus matchups instead of consistent WR2-like production.
Others of Note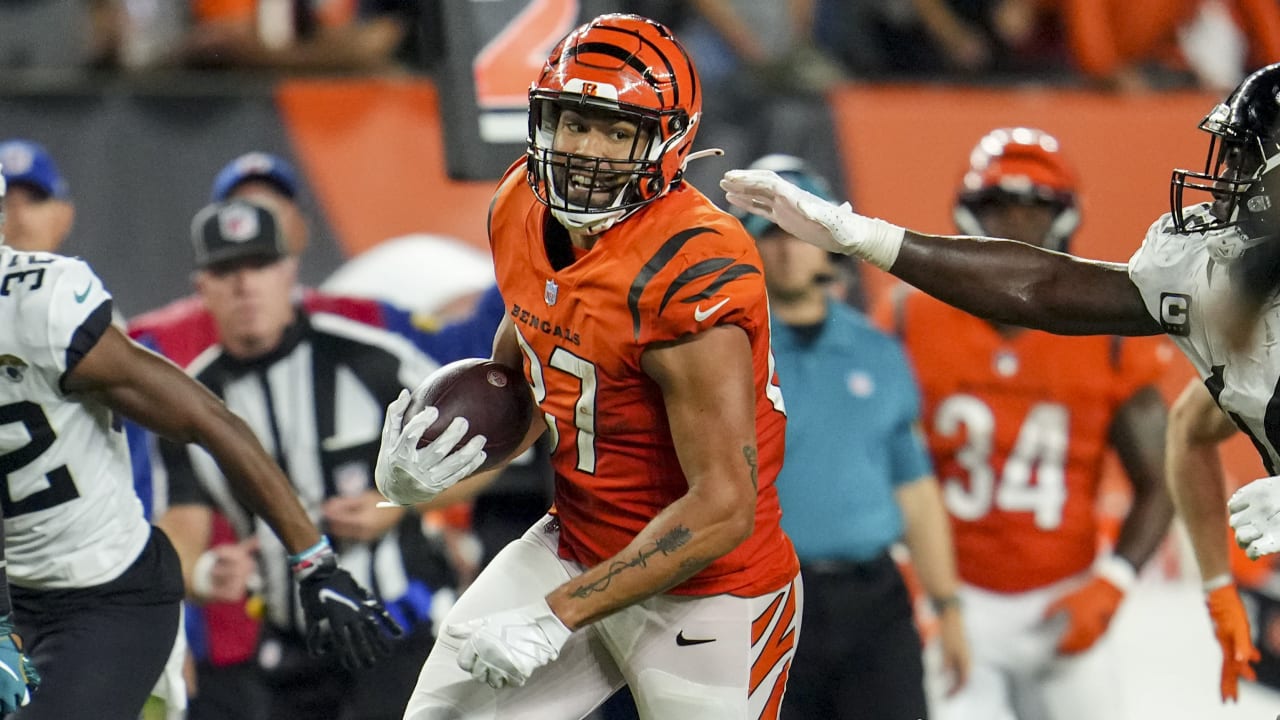 Tight Ends
C.J. Uzomah: 5 receptions, 95 receiving yards, 2 receiving TDs
Uzomah showed out on Thursday night with a huge night for the dozens of fantasy players who were brave enough to start him. By doubling his season totals in targets and receptions in a single night, he now enters the dreaded "touchdown flier" tier of tight ends. This particular performance was most likely helped out by Tee Higgins missing his second straight game, so once the second-year wideout returns, Uzomah's floor gets just a little bit lower and a little bit riskier.
Dawson Knox: 5 receptions, 37 receiving yards, 2 receiving TDs
Knox has scored for the third week in a row and has been targeted more often as the Bills' offense starts to solidify. As the team continues to find the answer at running back he becomes a very reliable weapon in the red zone for one of the league's best offenses. This type of upside is hard to ignore at the tight end position as Knox makes his case as an every-week start.
Mo Alie-Cox: 3 receptions, 42 receiving yards, 2 receiving TDs
This massive human being playing tight end for the Colts has been a popular pick as a sleeper tight end for fantasy for a couple of years now. Unfortunately for Cox, Indianapolis is one of the many NFL teams that employ multiple TEs in their schemes, having to fight Jack Doyle (1 for 24 receiving) for snaps on a week-to-week basis. Unless Cox starts to show a consistent presence in the game plan, with or without Doyle in the lineup, he's nothing more than a touchdown-dependent dart throw.
Others of Note
Players That Got Floored
Quarterbacks
Justin Fields: 11/17, 209 passing yards, 1 INT, 3 rushes, 9 rushing yards
Despite the second stinker in a row against a much worse defense, this was a much better game for Fields. He was only sacked once while enjoying a relatively clean pocket for most of the game, was able to hit Darnell Mooney (5 for 125 receiving) and Allen Robinson (3 for 63 receiving) on some quality throws, and managed the game well while the Bears were in constant control of the game. They leaned on their running game in the red zone which also took away some scoring opportunities for the young QB. Although there's a good chance Andy Dalton starts next week if healthy, it was a promising look for the rookie after the dreadful outing last week.
Ben Roethlisberger: 26/40, 232 passing yards, 1 pass TD, 1 INT
Roethlisberger is currently producing some of the saddest QB play I've ever seen. He looks clumsy in the pocket, has even less mobility than normal, and is constantly under fire behind a shoddy offensive line that forces lots of check-downs and forced passes just to get the ball out quickly. The fact that he hasn't thrown for multiple touchdowns in a game this season is extremely concerning and has limited upside even in plus matchups as the season continues.
Baker Mayfield: 15/33, 155 passing yards, 2 rushes, 11 rushing yards
Mayfield is lucky that he shares a division with Big Ben, or his disappointing outings this season would be garnering much more attention. Mayfield was once again erratic at best, missing wide-open receivers all afternoon and being unable to capitalize on big-play opportunities. The Browns have had success this season despite Mayfield, leaning on their elite tandem of Nick Chubb (21 for 100 rushing, 1 for 5 receiving) and Kareem Hunt (14 for 69 and 1 TD rushing, 2 for 17 receiving) out of the backfield. Mayfield's game-managing tendencies need to improve as they head to face high power offenses in the Chargers and Cardinals the next two weeks.
Others of Note
Running Backs
Myles Gaskin: 2 rushes, 3 rushing yards
Gaskin completely disappeared this game, ceding meaningful touches to Salvon Ahmed (3 for 1 rushing, 2 for 12 receiving) and Malcolm Brown (8 for 23 rushing, 1 for 4 receiving). Even more confusing is his lack of usage in the receiving game, where most of his upside lies. He was a fantasy draft darling this year but has not come close to his pre-season potential so far. Avoid Gaskin at all costs against the vaunted Tampa Bay running defense next week.
Mark Ingram: 6 rushes, 24 rushing yards
After some promising week 1 usage, Ingram has predictively fallen in productivity the last couple of weeks. As the early-down back, the negative game scripts Houston commonly faces are incompatible with his usage. There aren't too many matchups to look forward to where you can confidently play Ingram in anything more than a desperation flex role.
Chris Carson: 13 rushes, 30 rushing yards, 1 reception, 1 receiving yard
Unlike Ingram above, the limited usage of Carson is not something you could foresee. He's been given fewer snaps as the weeks go on and doesn't appear to be nursing any injuries. They may be trying to manage his workload due to his injury history, especially on a short week facing the Rams on Thursday. The continued use of Alex Collins (10 for 44 with 1 TD rushing, 2 for 34 receiving) in this offense caps Carson's ceiling, something to monitor as the season continues.
Others of Note
Wide Receivers
Coming off a rib injury last week, no one was expecting a huge stat line from the young wideout. However, we expected to see a little more from Smith-Schuster with Chase Claypool out and Diontae Johnson presumably covered by Jaire Alexander. What we got is a player trending downwards in receptions and yards week over week, and a risky play in a haphazard offense moving forward.
CeeDee Lamb: 2 receptions, 13 receiving yards
This was a very disappointing day for Lamb, but not from lack of trying. He had the second-highest targets on a day where Dak Prescott only attempted 22 passes. The Cowboys took an early lead and never let go, relying on their running game to keep possession and limit Carolina's opportunities. Expect more of a shootout against the emerging Giants offense next week.
Odell Beckham: 2 receptions, 27 receiving yards
Beckham was the true victim of Mayfield's accuracy issues this week. Finally healthy and presented with a great opportunity to produce, Mayfield missed Beckham on what would have been a long touchdown late in the game. The star wideout is hamstrung in Cleveland's run-first offense, making missed opportunities like this all the more painful.
Others of Note
Tight Ends
Will Dissly: 2 receptions, 5 receiving yards
Another case of missed opportunity with Gerald Everett missing this game due to injury. Dissly just didn't see the targets needed to produce in fantasy this week. For those well versed in streaming the tight end position, this outcome should not be a surprise. If Everett is healthy, Dissly will fade into the background once again without much interest soon.
Robert Tonyan: 2 receptions, 8 receiving yards
This game was a step in the right direction for the much-maligned Tonyan. He saw his highest target share of the season, and just missed a touchdown opportunity when Aaron Rodgers overthrew him. His usage in the offense is taking a turn for the better, so look for better weeks to come for the sleeper tight end pick during draft season.
Others of Note
Be sure to follow Pro Football Press for more Fantasy and NFL content!