Welcome to PFP's weekly studs and duds fantasy recap for the 2021 football season! Here we take a look at some of the standout performances, both and good and bad, from Thursday's and Sunday's contests. These are more instant reactions rather than in-depth analyses, with things to keep in mind as the season progresses. Let's see who took to the skies and who bottomed out in Week 3! You can check out Week 2 here.
Players Who Soared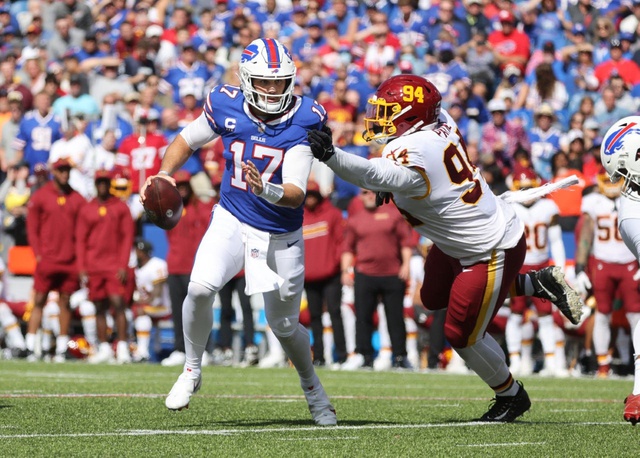 Quarterbacks
Josh Allen: 32/43, 358 passing yards, 4 pass TDs, 4 rushes, 9 rushing yards, 1 rush TD
This was the get-back game we were waiting for from Allen. It also came against the highly touted Washington defense which has not been living up to the pre-season hype. Allen got going early and often, scoring three of his passing touchdowns in the first half, keeping the pressure up for the whole game. Allen's fantasy owners can finally sigh in relief after this MVP-type performance
Justin Herbert: 26/38, 281 passing yards, 4 pass TDs, 4 rushes, 16 rushing yards
In keeping with the theme of the previous player, Herbert also enjoyed getting back on track against a vulnerable Chiefs defense. This particular effort benefitted from the Chief's tendency for turnovers this game, scoring the majority of their points off takeaways. The advantageous field position does not take away from the impressive showing from last year's rookie record-setter. With another plus divisional matchup next week against the Raiders, Herbert remains fixated in the QB1 conversation.
Others of Note:
Running Backs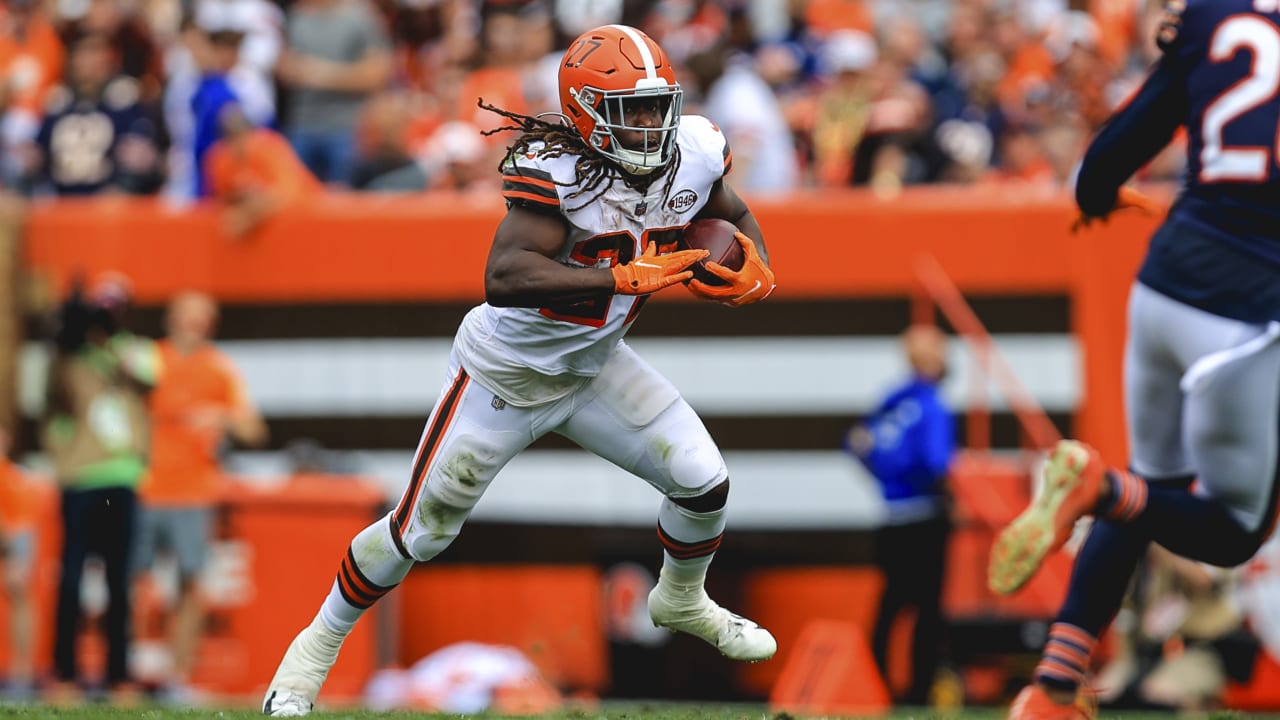 Kareem Hunt: 10 rushes, 81 rushing yards, 1 rush TD, 6 receptions, 74 receiving yards
The back-and-force dance between Hunt and Nick Chubb (22 for 84 rushing, no targets) continues this week, as Hunt was significantly behind Chubb in the ground game. Instead, Hunt appeared to be one of the biggest benefactors of the Jarvis Landry injury, commanding seven targets in the passing game. His three-down utilization works in tandem with his electric playmaking ability, as seen on his 29-yard scamper for his lone score on the day. Hunt will always be part of the offensive game plan every week and is worth flex consideration even in negative matchups.
James Robinson: 15 rushes, 88 rushing yards, 1 rush TD, 6 receptions, 46 receiving yards
The Jaguars are finally starting to realize the weapon that they have in Robinson. His efficiency has remained steady week over week as his rushing attempts have ballooned from 5 in week 1. Robinson is putting his best case forward to retain a three-down role moving forward in this offense, and with Trevor Lawrence's struggles (more below), they may need to rely on him considerably to get anything going. If this role continues, Robinson will start to live up to his draft season potential following Travis Etienne's injury.
Najee Harris: 14 rushes, 40 rushing yards, 14 receptions, 102 receiving yards
Harris was a check-down machine for a struggling Steelers offense in this game. 19 total targets are absurd for anyone in the league, matching Raiders focal point Darren Waller's insane week 1 performance against Baltimore. Of course, this was also due to the injuries to Diontae Johnson and JuJu Smith-Schuster, but it's very reassuring to see this kind of work for Harris. Unless the Steeler's offensive line can start opening up holes for the rookie, this passing work is what's going to carry him for the whole season.
Others of Note
Wide Receivers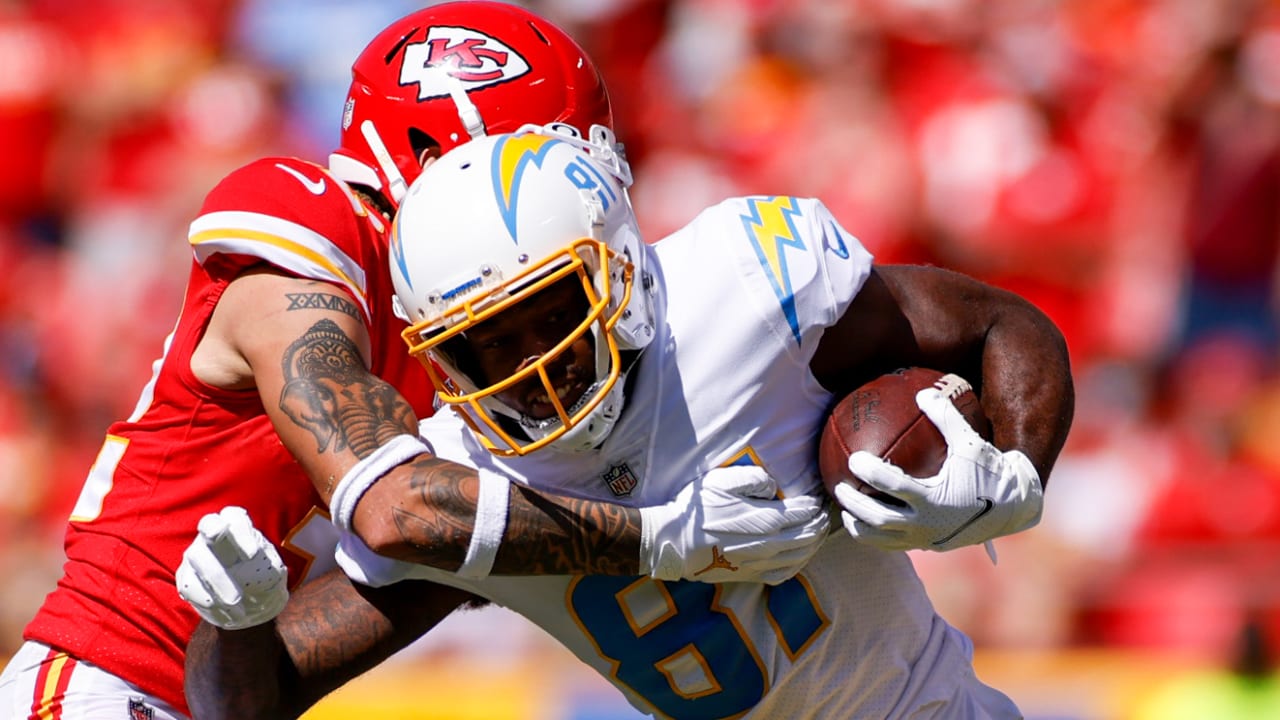 Mike Williams: 7 receptions, 122 receiving yards, 2 receiving TDs
Williams is doing everything in his power to make a huge statement in his contract year. The big-bodied former first-round pick has carved out a significant role in this Chargers offense, commanding at least 9 targets and 1 score in each of the first three weeks. He is Herbert's go-to target in the red zone so far this year, as well as being a reliable offensive weapon all over the field for the young QB. This offense is going to be a problem trying to cover Williams and Keenan Allen (8 for 50 receiving with 1 TD) moving forward.
Cooper Kupp: 9 receptions, 96 receiving yards, 2 receiving TDs
Back-to-back multi-touchdown games for Kupp. Absolutely insane. We knew that this Rams offense would wake up a little bit in the passing game with the acquisition of Stafford, but no one saw this type of emergence for Kupp. Double-digit targets in each of his first three weeks mean he will constantly remain the focal point of this wide receiving core with endless opportunities to continue blowing up.
Emmanuel Sanders: 5 receptions, 94 receiving yards, 2 receiving TDs
This was a game that we could see coming for the veteran wideout. Despite being third in the pecking order behind Stefon Diggs (6 for 62 receiving) and Cole Beasley (11 for 98 receiving), he's been playing the majority of snaps and had 100 total yards coming into this game. Blow-up games like this should reoccur as Sanders develops his chemistry with Allen as the season continues. He's a solid WR3/Flex play moving forward, especially in a tantalizing matchup against Houston next week.
Others of Note:
Tight Ends
Tyler Conklin: 7 receptions, 70 receiving yards, 1 receiving TD
After Irv Smith Jr. went down before the season started, Conklin garnered some hype as a sleeper TE at the very end of fantasy drafts. This may be his first standout game of the season, but the stat sheet shows a solid level of involvement over the first three weeks. Maintaining his 75-80% snap counts will provide additional opportunities in positive matchups moving forward.
Mike Gesicki: 10 receptions, 86 receiving yards
Jacoby Brissett (32/49 for 215 passing, 7 for 37 with 1 TD rushing) sure does love his tight ends. The Dolphins' backup quarterback has a history of peppering a large number of targets to the position, and Gesicki was a huge benefactor of this tendency this week. It was a needed get-right game for Gesicki as well, and something we can look forward to as long as Brissett is starting.
Others of Note
Players That Got Floored
Quarterbacks
Justin Fields: 6/20, 68 passing yards, 3 rushes, 12 rushing yards
There are moments in football where you feel for a young quarterback in a bad situation, and this is certainly one of those moments. Fields was hounded all day by the Brown's defensive front, getting sacked nine times for a total loss of yardage (67) nearly equal to his passing total. You can't fully blame the offensive line for the rookie's struggles, but they certainly didn't help. If Andy Dalton remains sidelined and Fields' hand checks out okay, he'll at least have a softer challenge against Detroit to look forward to.
Trevor Lawrence: 22/34, 219 passing yards, 1 pass TD, 2 INTs, 6 rushes, 27 rushing yards, 2 lost fumbles
Does anyone else hear alarm bells? Lawrence adds another four total turnovers to his depressingly impressive stat sheet against a very beatable Cardinals defense. This is Daniel Jones-level of ball security issues and should be very concerning for the first-year quarterback. Coming off this performance and traveling to Cincinnati next week is not looking as ideal as it was at the start of the season. The Jaguars' offense as a whole needs to find its footing soon to help develop their young heir apparent.
Others of Note
Running Backs
This game from Lindsay is the perfect highlight of the quagmire that is the Houston backfield. Lindsay saw the most rushing attempts out of the three main running backs while being on the field for the least amount of snaps. There's no consistency to the usage of these backs, except for how inefficient they appear to be. I will avoid talking about this backfield unless someone officially puts their stamp on the lead role.
Damien Harris: 6 rushes, 14 rushing yards, 2 receptions, -3 receiving yards
The Patriot's starting running back has come down to Earth following a stellar week 1 performance. The negative game script hurt Harris's potential to salvage this game, where he put up his least efficient effort of the season yet. Harris is a risky play against Tampa Bay's stout rushing defense next week, but the schedule softens up considerably following that matchup. Look for Harris to be a good trade-for target for the next couple of weeks.
This was a disappointing outing for the Ravens team as a whole in a juicy matchup against the lowly Lions. Williams still looks to be the lead back in this offense but the team just couldn't get anything going all game. The good news is Williams is still the most productive back on the team, with Latavius Murray (7 for 28 rushing) and Devonta Freeman (3 for 8 rushing) not doing much on their own as well. Volume may be an issue moving forward however if the other two keep eating into his snaps.
Others of Note
Wide Receivers
Robby Anderson: 1 reception, 8 receiving yards
This is a concerning trend for one of the popular sleeper picks during the draft season this year. Anderson only has 11 targets total to his name through three weeks and has seen his snap count decline every week. The injury to Christian McCaffrey might open up more opportunities for the explosive wideout, but it's certainly a situation to monitor moving forward. For now, DJ Moore (8 for 126 receiving) has left Anderson in his dust with no chance of looking back.
Kadarius Toney: 2 receptions, 16 receiving yards
The Giants' first-round pick has been very quiet through the first three weeks of the season. Toney has been battling various injuries and illnesses which has stunted his development with the rest of the first-team offense. Unfortunately, he could not make use of his sudden opportunity with Sterling Shepard and Darius Slayton going down with injuries in this game. Toney may be asked to step up sooner rather than later and is a decent waiver option to keep an eye on.
DeAndre Hopkins: 3 receptions, 21 receiving yards
Hopkins came into this matchup hobbled by a rib injury suffered during practice. It's more likely than not that he was run out there as a decoy for most of this game, which led to this dud of a stat line. Hopkins has always been a tough player, so it was within the realm of possibility that he could still produce, so this still hurts for his owners. Keep an eye on the injury reports throughout practice this week to see if he can return to form next week.
Others of Note
Tight Ends
Evan Engram: 2 receptions, 21 yards, 1 lost fumble
As a Giants fan, it's becoming increasingly difficult to be impartial on anything Engram-related for fantasy football. A limited Kenny Golladay and injuries to Shepard and Slayton opened the door wide open for Engram to take advantage of the target vacuum, and he once again squandered this beautiful opportunity. His athletic prowess is without question, but the consistent mental errors mean you cannot trust him until he puts together a string of multiple quality starts.
This fantasy dud is brought you by an inability to bring in most of his targets (6) and an ugly bobbled catch that lead to a pick-six. The unfortunate part for Smith is that he has limited upside due to his consistent but low volume usage in this Patriots offense that wasn't able to run the ball. It's been hard to trust either Smith or Hunter Henry (5 for 36 receiving) as anything more than TE2s this year while they continue to eat into each other's workload.
Others of Note:
Be sure to follow Pro Football Press for more Fantasy and NFL content!