Welcome to PFP's weekly studs and duds fantasy recap for the 2021 football season! Here we take a look at some of the standout performances, both and good and bad, from Thursday's and Sunday's contests. These are more instant reactions rather than in-depth analysis, with things to keep in mind as the season progresses. Let's see who took to the skies and who bottomed out in Week 2! You can check out Week 1 here.
Players Who Soared
Quarterbacks
Kyler Murray: 29/36, 400 passing yards, 3 pass TDs, 2 INTs, 5 rushes, 31 rushing yards, 1 rush TD
We expected this to happen after Murray's coming out party last week. Even with some additional mistakes, Murray is one of the most electric players in the NFL today. His ability to scramble and extend plays, sometimes rushing forward for his yardage, is an irreplaceable skill to have for your QB1.
Daniel Jones: 22/32, 249 passing yards, 1 pass TD, 9 rushes, 95 rushing yards, 1 rush TD
For once, Jones's play under center was not a key factor in the Giants losing on Thursday night. His throws looked more on target and had more zip to them, and he was able to take advantage of the read-option and use his legs for yardage. He'll need more reliable hands from his receivers, but this is a noticeable step forward for the 3rd year QB.
Derek Carr: 28/37, 382 passing yards, 2 pass TDs, 4 rushes, 9 rushing yards
A pleasant surprise in the early fantasy season, Derek Carr has now thrown for over 800 yards in his first two contests. What's important from this week is that Darren Waller wasn't the commanding target leader this time around. With his running game providing no help, Carr has shown he can air it out to keep his team in games. This makes him a great streaming option moving forward.
Others of Note
Running Back
Derrick Henry: 35 rushes, 182 rushing yards, 3 rush TDs. 6 receptions, 55 receiving yards
This was a much-needed get-right game for Henry. The physically imposing back was able to take advantage of his usual M.O. in this game. 30+ rushing attempts wore the Seahawks' defense down until they just couldn't stop him. It was a nice glimpse from last year that his owners will hope to continue to see.
Christian McCaffrey: 24 rushes, 72 rushing yards, 1 rush TD, 5 receptions, 65 receiving yards
Speaking of returning to form, McCaffrey provides yet another typical top-5 performance. Nothing will stop McCaffrey from being the centerpiece of this offense as long as he remains healthy.
Cowboys Running Backs
In a high-powered matchup against the Chargers, both Ezekiel Elliot (16 for 71 rushing, 1 rush TD, 2 for 26 receiving) and Tony Pollard (13 for 109 rushing, 1 rush TD, 3 for 31 receiving) proved they could make efficient use of the touches they receive. Unfortunately, the other side of this coin is that tougher matchups mean fewer opportunities for each player. The schedule is pretty kind for the next couple of weeks, so you can afford to hope for the upside to continue.
J.D. McKissic: 4 rushes, 10 rushing yards, 1 rush TD, 5 receptions, 43 receiving yards, 1 receiving TD
The two-minute drill and passing down work, at least for now, belongs to McKissic. What was surprising is that he even got a goal-line carry and one or two short-yardage carries while in the up-tempo offense. Antonio Gibson owners need to temper expectations and hope for more positive game scripts for this shaky offense, otherwise, McKissic will continue to be a thorn in their side.
Others of Note:
Wide Receivers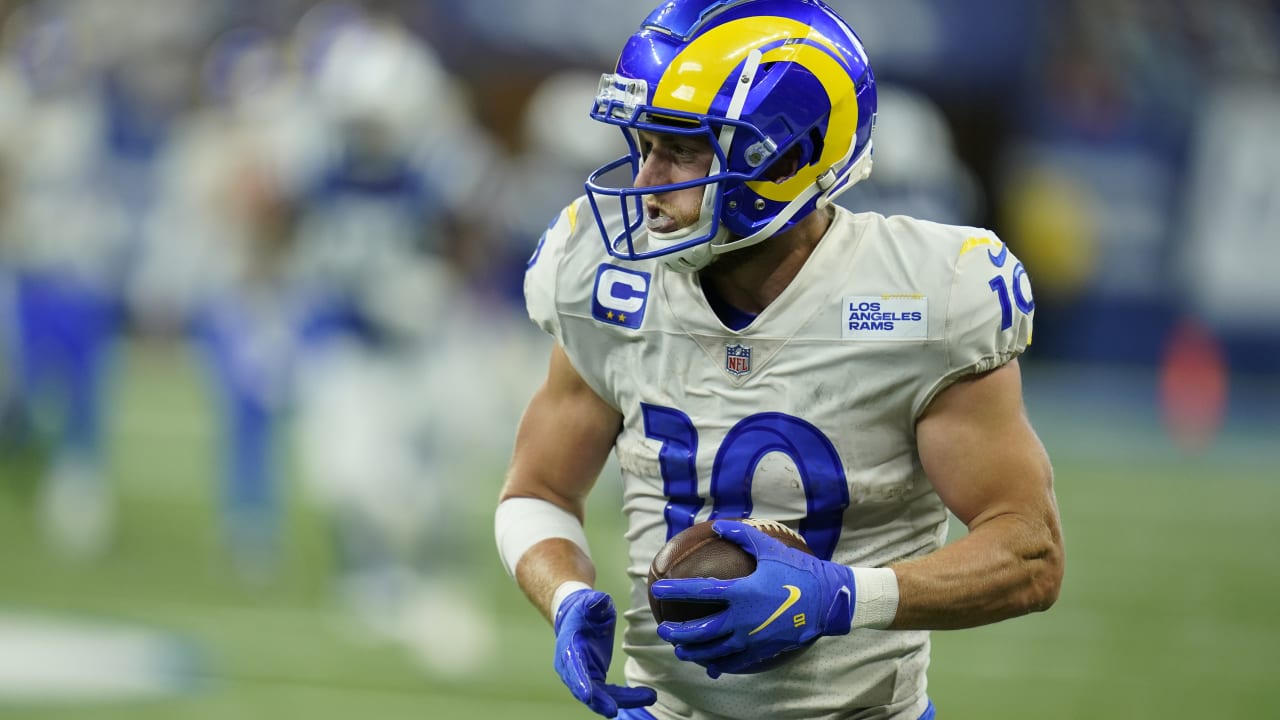 Cooper Kupp: 9 receptions, 163 receiving yards, 2 receiving TDs, 1 rush, -5 rushing yards
Congrats to all Kupp owners on winning your matchups this week! The Rams wide receiver exploded, commanding double-digit targets from new best friend Matthew Stafford. He is by far the safest receiving option in this passing attack moving forward.
Tyler Lockett: 8 receptions, 178 receiving yards, 1 receiving TD
The projected 1b to D.K. Metcalf's (6 receptions for 53 yards) 1a has been significantly more efficient with his opportunities through the first two weeks. With back-to-back 100-yard performances, and being tied with Metcalf to lead the team in targets, Lockett's usage should not be questioned at all. Look for him to continue his hot streak season opening against Minnesota next week.
Terry McLaurin: 11 receptions, 107 receiving yards, 1 receiving TD
When Ryan Fitzpatrick went down in week one, questions were asked about how effective McLaurin could be with an inferior signal-caller. The rapport that McLaurin has built with Taylor Heinicke, however, should alleviate those concerns. Being able to show out against a corner in James Bradberry that gave him significant trouble last year shows his progress as a receiver. The polished second-year player should have no problem producing regardless of who's at quarterback.
Courtland Sutton: 9 receptions, 159 receiving yards
With Sutton now fully healthy, the injury to Jerry Jeudy freed up a significant amount of targets that found their way to him. Sutton commanded a greater than 33% target share against the Jaguars and looked good converting those targets into chunk gains. With the Jets slated in the week 3 matchup, Sutton should continue to dominate the passing work from Teddy Bridgewater.
Others of Note:
Tight Ends
Rob Gronkowski: 4 receptions, 39 receiving yards, 2 receiving TDs
Gronkowski continues to ignore father time along with his favorite QB. The legendary pair have now linked up for four touchdowns in two weeks, creating massive upside at the tight end position. Gronk will continue to flirt with locked-in top-5 TE production for the rest of the season.
Maxx Williams: 7 receptions, 94 receiving yards
In an absolute barn-burner, Williams was able to carve himself a nice role in keeping the up-tempo Arizona offense moving. These are points that I would not chase, however, as there are too many weapons already sharing all of these passing opportunities. Williams is a wait-and-see type tight end; make sure to keep an eye on his target share to see if any level of consistency develops.
Noah Fant: 4 receptions, 33 receiving yards, 1 receiving TD
Another beneficiary of Jeudy's injury, Teddy Bridgewater's security blanket was able to find the endzone this week. 14 targets over two weeks are not something to stick your nose up at for the tight end position, making Fant one of the most consistent options as the season continues.
Kyle Pitts: 5 receptions, 73 receiving yards
While not hitting full breakout yet, Pitts has continued to show improvement in the Falcon's offense. Similar to Fant above, he is solidly involved in this offense with 14 targets of his own to his name. The conditions are right for a full breakout game against a Giants defense that is allergic to covering the middle of the field.
Others of Note:
Players That Got Floored
Quarterbacks
Zach Wilson: 19/33, 210 passing yards, 4 INTs, 3 rushes, 19 rushing yards
The Patriots' defense lives up to their reputation once again. Bill Belichick eats rookie QBs for breakfast, and this poor showing from the promising Jets quarterback is no different. You avoided starting him if you could anyway, just hope for a slightly better bounce-back week against Denver.
Justin Fields: 6/13, 60 passing yards, 1 INT, 10 rushes, 31 rushing yards
Fields came in for an injured Andy Dalton and looked like a quarterback in relief out there. Some small mistakes for a rookie but nothing that he can't recover from. His rushing ability gives him significant fantasy upside and will look to take advantage of that if Dalton misses time.
Jameis Winston: 11/22, 111 passing yards, 2 INTs, 3 rushes, 19 rushing yards, 1 rush TD
This is the downside of the low volume stat line after the ceiling of last week's performance. Winston is a gunslinger by nature, so being limited to less than 25 attempts per game will make the bad games stick out more. What's worse is that they didn't attempt more throws while being down most of the game. This is a scary precedent to set with New England on tap for next week.
Others of Note:
Running Backs
The entire 49ers backfield
Shoutouts to Trenton Cannon as the last surviving member of the 49ers backfield. Elijah Mitchell (shoulder), Trey Sermon (concussion), and JaMycal Hasty (high-ankle sprain) all suffered injuries during the matchup against the Eagles on Sunday. The team is bringing in free agents to sign off the streets, both for depth and potential lack of trust in Cannon who's primarily a special teams player.
Peyton Barber: 13 rushes, 32 rushing yards
This was a situation to avoid entirely after Josh Jacobs was downgraded to out. Both Barber and Kenyan Drake (7 rushes for 9 yards, 5 receptions for 46 yards) looked like significant downgrades, but at least Drake was effective in the passing game so he didn't kill you. Hopefully, this will convince Jon Gruden to give Drake more touches if Jacobs misses more time.
Alvin Kamara: 8 rushes, 5 rushing yards, 3 receptions, 17 receiving yards
The Panthers completely sold out to stop Kamara this week and it worked beautifully. Unfortunately, that means that your stud running back completely let you down, which was disappointing to see against a decent matchup. The good news here is that Kamara led the team in targets, which bodes well for his usage further down the line if Winston opens up the offense more.
Others of Note:
Wide Receivers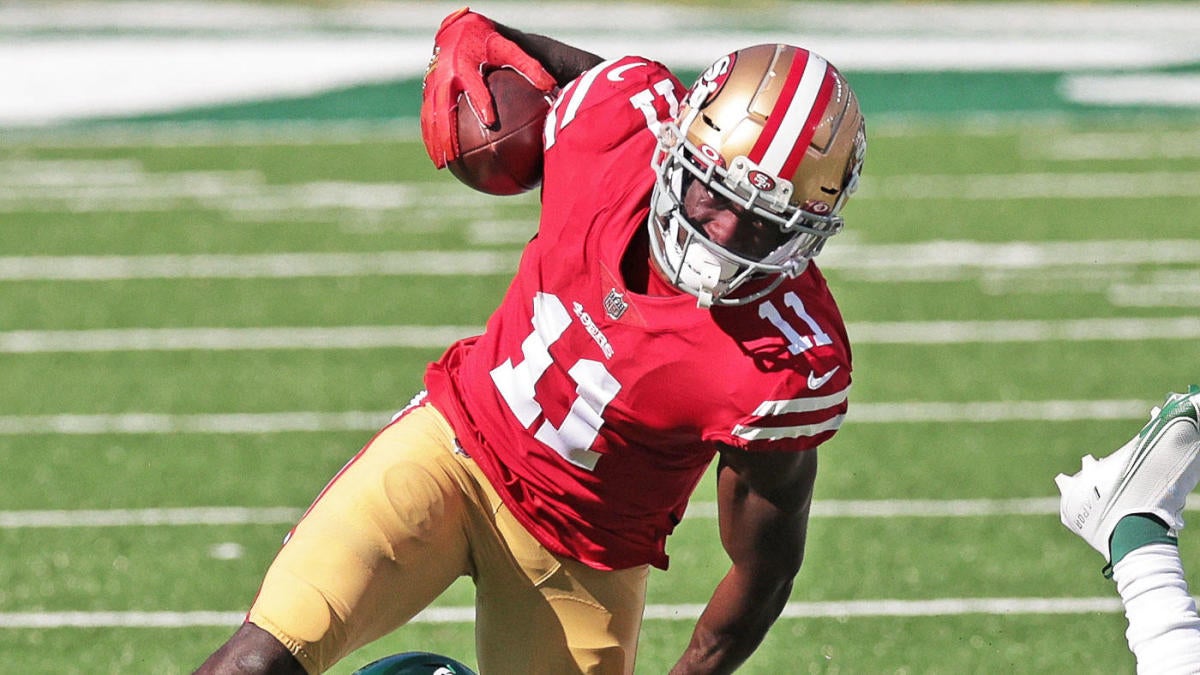 Brandon Aiyuk: 1 reception, 6 receiving yards
Aiyuk has been completely usurped by Deedo Samuel (6 receptions for 93 yards) for the #1 wide receiver spot. His snap counts went up from the previous week but only saw two targets all game. It remains to be seen if Aiyuk is still recovering from his hamstring issue or if they are just content with phasing him out of the offense, but you cannot start him until improvement is shown.
Corey Davis: 2 receptions, 8 receiving yards
Davis was a victim of the crimes Belichick commits against rookie QBs as mentioned earlier. He has shown enough throughout preseason and week 1 that he can be relied on for solid production when Wilson can minimize his mistakes.
D.J. Chark: 1 reception, 19 receiving yards
Both Chark and Laviska Shenault (2 receptions for -3 yards) were overshadowed by Marvin Jones (6 receptions for 55 yards and 1 TD) on the outside. Even after Shenault got hurt the targets just weren't coming Chark's way. He may see an uptick in targets if Shenault misses significant time, but he's a risky WR2 play at best right now.
Others of Note:
Tight Ends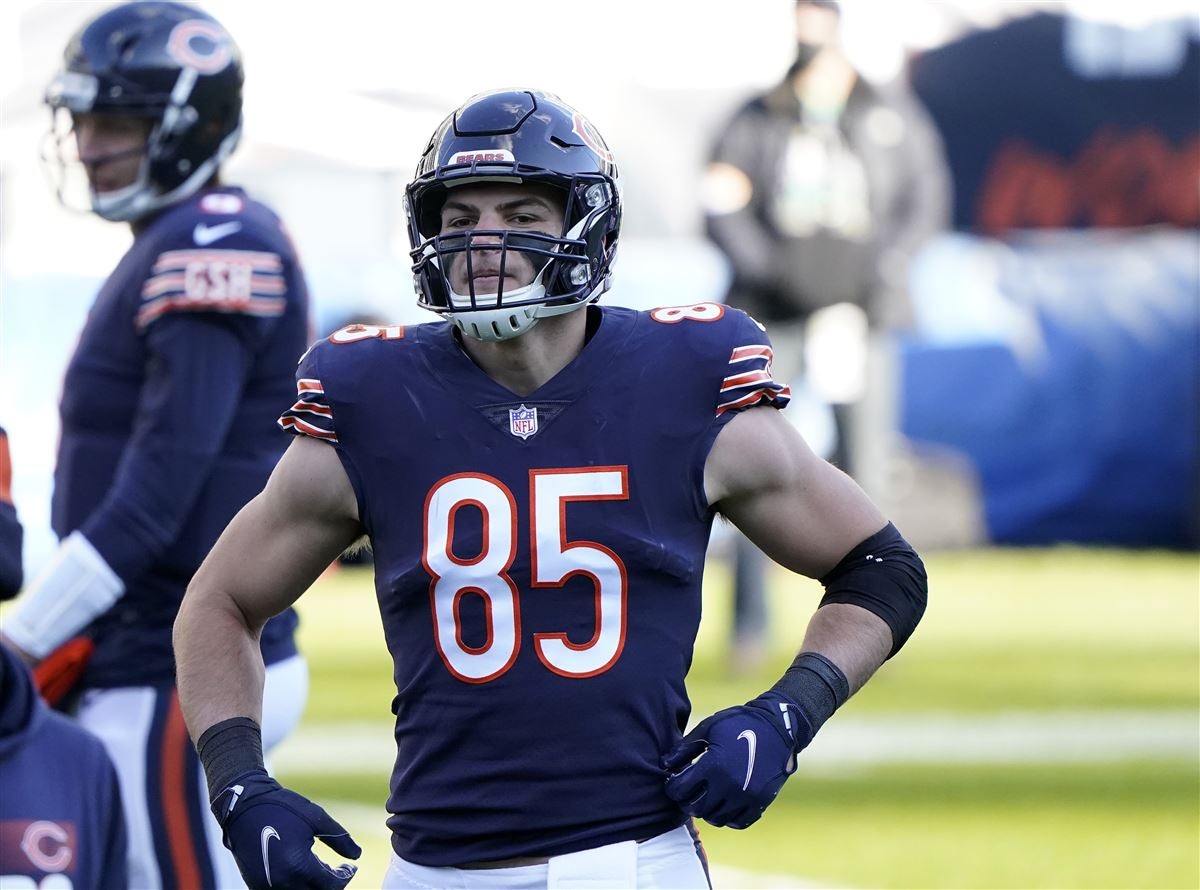 After Dalton was injured the game plan shifted away significantly from Kmet compared to the previous week. It'll be a situation to watch if Fields takes over as the starter, as a tight end can become a rookie QB's best friend. He's worth watching from the waiver wire for now though.
Gerald Everett: 1 reception, 3 receiving yards
The Seahawks have played two high-scoring matchups so far where Everett has not been involved, at least not in the passing game. He's significantly outpacing Will Dissly in snap counts and Dissly did not get a target, so there's not any major concern here from that perspective. He's best used as a waiver wire flyer at this point based on matchup.
Zach Ertz: 1 reception, 6 receiving yards
It's pretty clear at this point that the Eagles are now Dallas Goedert's team. a total of four targets in the first two games is not sustainable when there is a significantly more productive tight end being used in the offense. Now that he's COVID-19 positive, Ertz cannot be started in any capacity at this point even after he recovers.
Others of Note:
Be sure to follow Pro Football Press for more Fantasy and NFL content!