The New England Patriots were barely able to escape last week with a 25-22 win over the Houston Texans. After a 312 yard, two-touchdown performance from third-round pick quarterback Davis Mills, the Patriots completed a 13-point second-half comeback. With an offensive line made from the scrap heap, Mac Jones was only sacked once. The pass protection wasn't the problem last weekend. Ball security and sloppy defense were. Damien Harris fumbled yet again, costing the Patriots a touchdown early. Defensively they couldn't stop a nosebleed. They relied on Davis Mills falling apart to steal the victory.
It doesn't take a rocket scientist (not you, Matt Patricia) to figure out that they probably won't get that lucky against the Dallas Cowboys. Dak Prescott has been on an absolute tear to start the season, passing for 1,368 yards and 13 touchdowns on the year. Posting a 116.9 passer rating. He's surrounded by a plethora of talent. Ezekiel Elliott, CeeDee Lamb, and Amari Cooper far outmatch the talent that Houston had last week. Meanwhile, the Cowboys' defense is vastly improved. They're a top-five rushing defense and they rank first in scoring. Not a great matchup for a Pats offense that struggles to put points on the board as is.
It's not all bad though. The Patriots are finally getting healthy again with Michael Onwenu and Shaq Mason returning to practice. It shouldn't be long until they're full strength. So without further ado, set it up, Bailey. Let's get this one going.
Three Keys to The Game
Key #1: Stuff The Run
Ezekiel Elliott is one of the best backs in the NFL. Even if the production hasn't been the same since his first year, he's a force to be reckoned with. The Dallas offense still revolves heavily around their success with the run game. The Cowboys average 5.3 yards per rush and about 172 yards per game on the ground. Tony Pollard providing some support on the depth chart shouldn't be overlooked either. He's averaging 60 yards a game as well. The run game will be a huge factor in the possible rain in Gillette Stadium. If the Patriots can slow them down they're already in great shape. We're looking at you, Lawrence Guy, and Davon Godchaux. Do what you do best.
Key #2: Keep Up With The Recievers
It's not just the ground game that New England has to keep up with. The Cowboys have an MVP caliber quarterback in Dak Prescott, passing to pro-bowl caliber receivers in Amari Cooper and CeeDee Lamb. Not to mention sneakily dynamic tight ends Dalton Schultz and Blake Jarwin. You'd be hard-pressed to find an offense more talented than Dallas. I'm worried the Pats might not have the secondary to match.
Jalen Mills should be back this week to accompany J.C. Jackson and Jonathan Jones in taking on this tall task. But he's no Stephon Gilmore. The Pats secondary will have to play infinitely better than they did last week if they want to be even semi-competitive against Dak Prescott. He's not Davis Mills. Prescott will crush you if given the opportunity. If he's given the windows that Mills was last week, he'll make his case for MVP even stronger at our expense.
Key #3: Mac Jones Needs to Leap Forward
Listen, I've been just a big a fan of Mac Jones as the rest of the New England region. He's been a nice change at the position by throwing the ball smartly, safely, and surprisingly accurate. At first, I thought the comparisons to 2001 Tom Brady were a bit reactionary. But I can sort of see it. And reports are from the ownership down, the Patriots organization absolutely loves what they have in Mac Jones. The confidence the organization has in him, and the confidence he has in himself are great. But the results need to start to come.
In the rookie's first five starts, he's been anything but flashy. He's top 10 in total turnover-worthy plays for quarterbacks and his big-time throw rate sits with the likes of Daniel Jones and former Patriot Jacoby Brissett at 3.5 percent. It is possible that play-calling has hindered his ability to show what he has in store. But sooner or later he's going to have to really hit his potential if the Patriots are to be contenders in 2021. The expectations are high, but that comes with being a first-round selection. He won't get the pass that some late-round guys do for starting slow.
It's almost mid-season, it's put up or shut up time from now until the season's close in Miami in 12 weeks. I'm sure that Bill Belichick intends on playing further into January as well. Let's ease up on the training wheels and give Jones a chance to show off against a worthy opponent. Belichick didn't sign Hunter Henry, Jonnu Smith, Kendrick Bourne, and Nelson Agholor for no reason. Let's see those big additions pay off in the biggest games, and I think this week against a Super Bowl contender certainly counts as one.
Did you know through three seasons in the NFL, Jakobi Meyers doesn't have a single touchdown catch? He has a couple of throws to the endzone, but never a catch. Sure, he might've had one or two his rookie season if Tom Brady didn't decide he hated rookies in his twilight in New England. But it's unfathomable that despite being the Patriots' best receiver last year and into this season, he's been unable to find the endzone in his natural position.
If Jones is going to have the big day that he might just need to match up with Prescott, Meyers is going to have to break free from Trevon Diggs, and Anthony Brown, who has been electric to start this season. Diggs himself has put up a campaign similar to Stephon Gilmore in 2019 when he won defensive player of the year. If the passing game is to be the focus against the Cowboys, I wouldn't be shocked if Meyers is the focal point of it and sees around 15 looks from Jones. Isn't it about the time he's found the endzone anyway? He's only been the Patriots' most reliable target since the conclusion of Julian Edelman's career. Which came about eight months before his official retirement announcement.
Closing Thoughts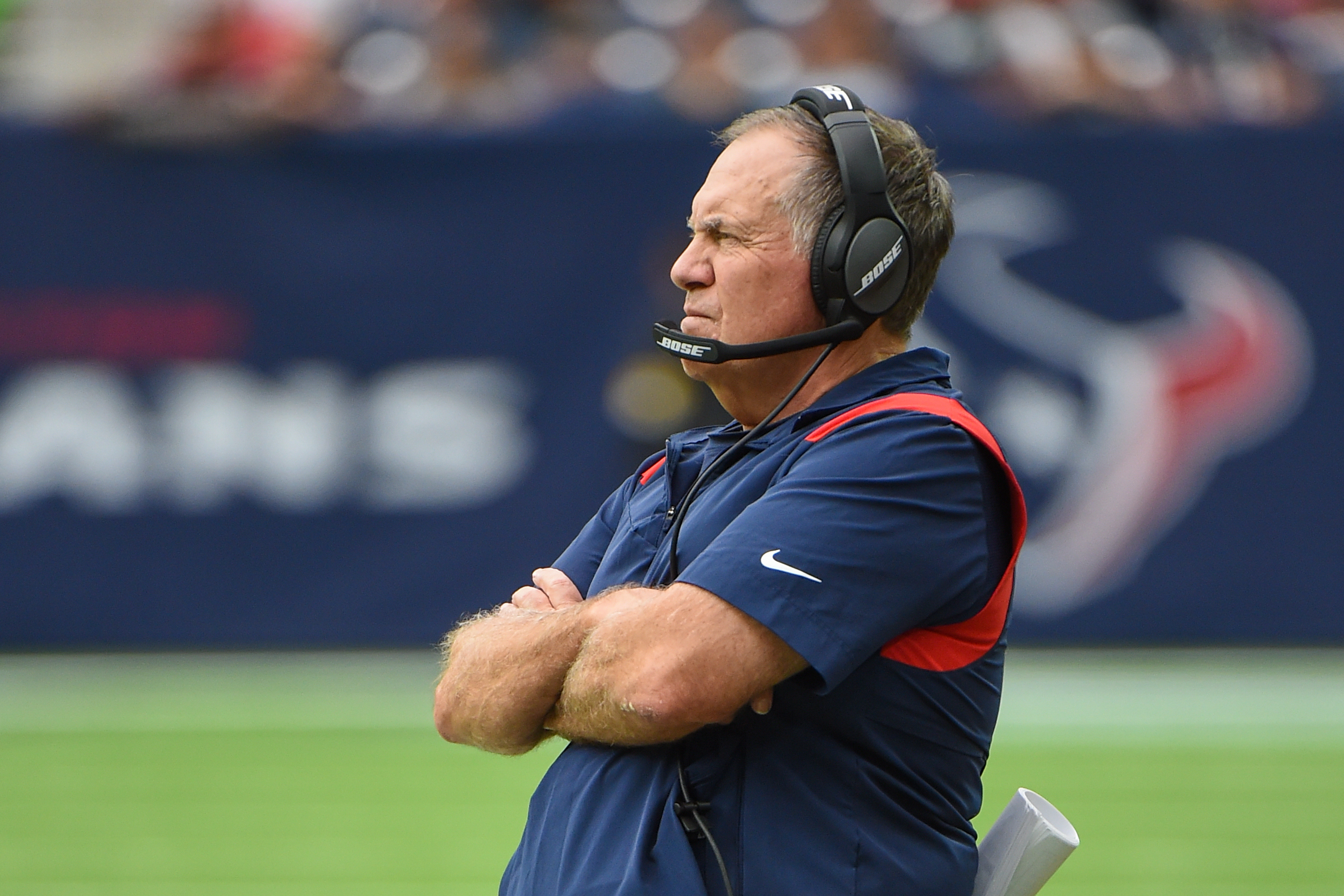 I cannot begin to fathom how bad of a look it would be for the Patriots to lose four straight home games to open the season. The last time the Patriots had a .500 or lower record at home? The 2000 season, Belichick's first with the team, and effectively Drew Bledsoe's last as the starter. Even Cam Newton was able to pull off the wins in Foxboro. I get the schedule hasn't been easy, and if it wasn't for a few plays going the wrong way, the Pats are a 4-1 team. But we don't live in the Marvel Cinematic Universe where "What If?" could be turned into something worthwhile. In the NFL, the win is all that matters.
I would be lying if I said I'm confident the Patriots can pull off a win, but that doesn't mean they can't. After keeping up with Tampa Bay's offense at almost full strength, it isn't impossible to picture Belichick being able to frustrate the Cowboys. We've seen the Patriots do far more with much less. It's a common theme among various Patriots teams through the years.
The concern obviously lies with the Patriots' offense making the most of their opportunities. Something they've failed on doing thus far into the season. Ranking 25th in total offense. Maybe Mrs. McDaniels can get Josh to finally start being a little more aggressive with the play calls, and let Mac Jones rip it a little. If they can produce at least three touchdowns worth of points on offense? I give the Patriots a real chance. So I'll ride on the optimism train a little bit longer. Don't let me down, Belichick!
Final Score: 27-23, New England (3-3)
If you enjoyed this content, or hate it and want to argue with me, follow me on Twitter @KalebEmcee! Feel free to check out the work I do on Foxboro Beat! Also, read up on the rest of the NFL content PFP has to offer here!