Welcome to PFP's weekly studs and duds fantasy recap for the 2021 football season! Here we take a look at some of the standout performances, both and good and bad, from Thursday's and Sunday's contests. These are more instant reactions rather than in-depth analyses, with things to keep in mind as the season progresses. Let's see who took to the skies and who bottomed out in Week 8! No article for Week 7, but you can check out Week 6 here.
Players Who Soared
Quarterbacks
Mike White: 37/45, 405 passing yards, 3 pass TDs, 2 INTs, 5 rushes, -1 rushing yards
We lead off this week's article with the most unlikely top QB of the year: Mike White. The third-year veteran out of Western Kentucky got the start for the injured Zach Wilson. The first couple of drives went about how you'd expect for a backup to a bad team: A decent first drive ending in a score, followed by two awful interceptions. From there, though, White caught fire, able to command the rag-tag group of offensive players. He kept the Jets in contention as the Bengals struggled to separate against an inferior team. White looked good enough to start raising questions about if Wilson will even get his job back once healthy. A short week into a Thursday night contest against the Colts will shed some light on this enigma of a standout performance.
Justin Fields: 19/27, 175 passing yards, 1 pass TD, 1 INT, 10 rushes, 103 rushing yards, 1 rush TD
We finally got to see Fields's potential shine through, and all it took was Matt Nagy to cede head coaching duties thanks to COVID. Just as expected, it was the rushing stats that are cheat codes for quarterback fantasy production doing the heavy lifting here. Fields still looked shaky as a passer but showed some flashes on limited attempts. It's the top-5 rushing stat-line that showed what he can do as an athlete. Hopefully, when Nagy returns they'll be able to start working this aspect of Fields's game in more often. Heading on the road to Pittsburgh next week will be a true test for the young star.
Others of Note
Running backs
Michael Carter: 15 rushes, 77 rushing yards, 1 rush TD. 9 receptions, 95 receiving yards
Along with his new starting QB, Carter exploded onto the scene against the Bengals Sunday afternoon. He not only led the team in rushing attempts and yards but also lead the team in targets (14 total). Unlike White, Carter's rise was a bit more telegraphed. His snap counts have been steadily increasing, lead by his utilization in the passing game. He now has 23 total targets in the last two games, which is a recipe for sustained fantasy success on a team that will consistently find itself in negative game scripts. Carter will find himself as a weekly flex play if he can maintain this level of usage, especially in PPR formats.
Joe Mixon: 14 rushes, 33 rushing yards, 1 rush TD. 4 receptions, 58 receiving yards, 1 receiving TD
On the opposite side of the contest, it was a weird day for Mixon. The Jets defense which typically gives up all kinds of yardage to running backs gave Mixon a significantly tougher time than expected, only averaging just north of 2 yards per rush. The receiving work and multi-touchdown performance helped save his day in a big way. The good news is that nothing about this stat line is indicative of troubles to come. Mixon is still the clear leader in the backfield with Samaje Perine (2 for 16 receiving) barely getting any work behind him. He is one f the true workhorse backs in the league and will continue to have opportunities for big games fall in his lap.
Others of Note
Wide Receivers
A.J. Brown: 10 receptions, 155 receiving yards, 1 receiving TD
Brown is finally starting to hit his stride after a slow start to the season marred by a nagging injury. Julio Jones being inactive due to his ailments certainly helped his case as well. Brown has commanded 29 targets over the last three games, averaging 126 yards and compiling two scores over that timeframe. While this meteoric stretch is more of a regression to the mean rather than the new norm, it's a great indicator that Brown is finally healthy and ready to contribute. You should not be scared to start him anymore, even in tough matchups against the Rams and Saints over the next two weeks.
Chris Godwin: 8 receptions, 140 receiving yards, 1 receiving TD
Godwin won the Brady roulette this week, as Mike Evans (2 for 48 with 1 TD receiving) was busy dealing with his long-time nemesis Marshon Lattimore all day. Godwin became the focal point of the passing game, continuing the positive momentum he had from last week as well. As Antonio Brown and Rob Gronkowski continue to battle injuries, Godwin should continue to see this increased target share in one of the best offenses in the league. However, those guys have a great chance to get healthy going into their bye week, so it remains to be seen how much Godwin will continue to be involved moving forward. The pedigree of the offense and his relatively safe 5 target floor will keep Godwin in the WR2/flex conversation every week.
Others of Note
Tight Ends
T.J. Hockenson: 10 receptions, 89 receiving yards
The season has not been as kind to Hockenson as his fantasy owners were hoping. While the third-year big man has been seeing a crazy amount of looks (at least 8 targets in six of eight weeks), the touchdowns and quality yardage just haven't been there. What you can rely on is the targets: Jared Goff (25/34 for 222 passing) has been hyper-focused on Hockenson and the running backs in the passing game all season. That kind of consistency is extremely hard to come by at the tight end position this year. Look for Hockenson to retain his safe floor through the Week 9 bye.
Pat Freiermuth: 4 receptions, 44 receiving yards, 1 receiving TD
With Eric Ebron missing the game due to a hamstring injury, Freiermuth took full advantage of his increased role in the offense. He saw the second-most targets on the team (7) and continues to earn red-zone looks from Ben Roethlisberger. Right now he sits solidly in the TD or bust category of tight ends, but these flashes are very encouraging for his owners. Rookie tight ends especially take some time to reach their full potential, and the future is looking bright for Freiermuth so far.
Others of Note
Players That Got Floored
Quarterbacks
Matt Ryan: 20/27, 146 passing yards, 1 pass TD, 2 INTs, 2 rushes, 3 rushing yards
Heading into Week 8, Ryan enjoyed some consistent production against bad teams over the last few weeks. With the Panthers coming to town, and Calvin Ridley missing this game and potentially the rest of the season due to personal reasons, he crashed back to Earth hard. Carolina shut Kyle Pitts (2 for 13 receiving) out of the game as much as possible and Ryan was unable to compensate. It's time to abandon ship on Ryan for now with the team headed to New Orleans next week as the offense goes back to sputtering.
Kyler Murray: 22/33, 274 passing yards, 2 INTs, 6 rushes, 21 rushing yards
The scoring streak, unfortunately, ends for one of the most consistent quarterbacks in terms of fantasy on the year. This was a rough game all around for Murray. The abuse he was taking over the last couple of games has finally caught up to him, culminating in a bum ankle at the end of this contest. His favorite target DeAndre Hopkins (2 for 66 receiving) is also dealing with a reoccurring hamstring injury. One final egregious plunder by A.J. Green (5 for 50 receiving) that led to Murray's second interception capped an incredibly disappointing game for the young star QB. Murray has 10 days to get healthy and bounce back against San Francisco next week.
Others of Note
Running backs
David Johnson: 2 rushes, 4 rushing yards, 1 reception, -1 receiving yards
The departure of Mark Ingram from the Texans running back room has appeared to have caused an even worse situation for the team. No one out of Johnson, Phillip Lindsay (3 for 8 rushing), Scottie Phillips (5 for 11 rushing, 2 for 9 receiving), or Rex Burkhead (4 for 21 with 1 TD rushing, 3 for 27 receiving) managed to stand out during the game against the Rams. Burkhead may have come away with the score, but the Texans will continue to use this four-headed amalgamation of a running game. If Ingram leaving gave you even a glimmer of hope that you could utilize anyone in this running game, this should convince you to leave it alone for the rest of the year.
Alex Collins: 10 rushes, 44 rushing yards
This was another instance of too many mouths being fed, as Seattle appeared to be distributing the snaps across their whole running back room to keep Collins healthy. He had some injury question marks coming into this game, opening the door for Rashaad Penny (7 for 7 rushing), DeeJay Dallas (1 for 6 rushing), and Travis Homer (4 for 9 rushing, 1 for 3 receiving) to give it a shot. The good news is Collins is still the clear best runner of the group. Also, Seattle heads into their bye next week, allowing Collins to get fully healthy and take back command as Chris Carson continues to heal.
Others of Note
Wide Receivers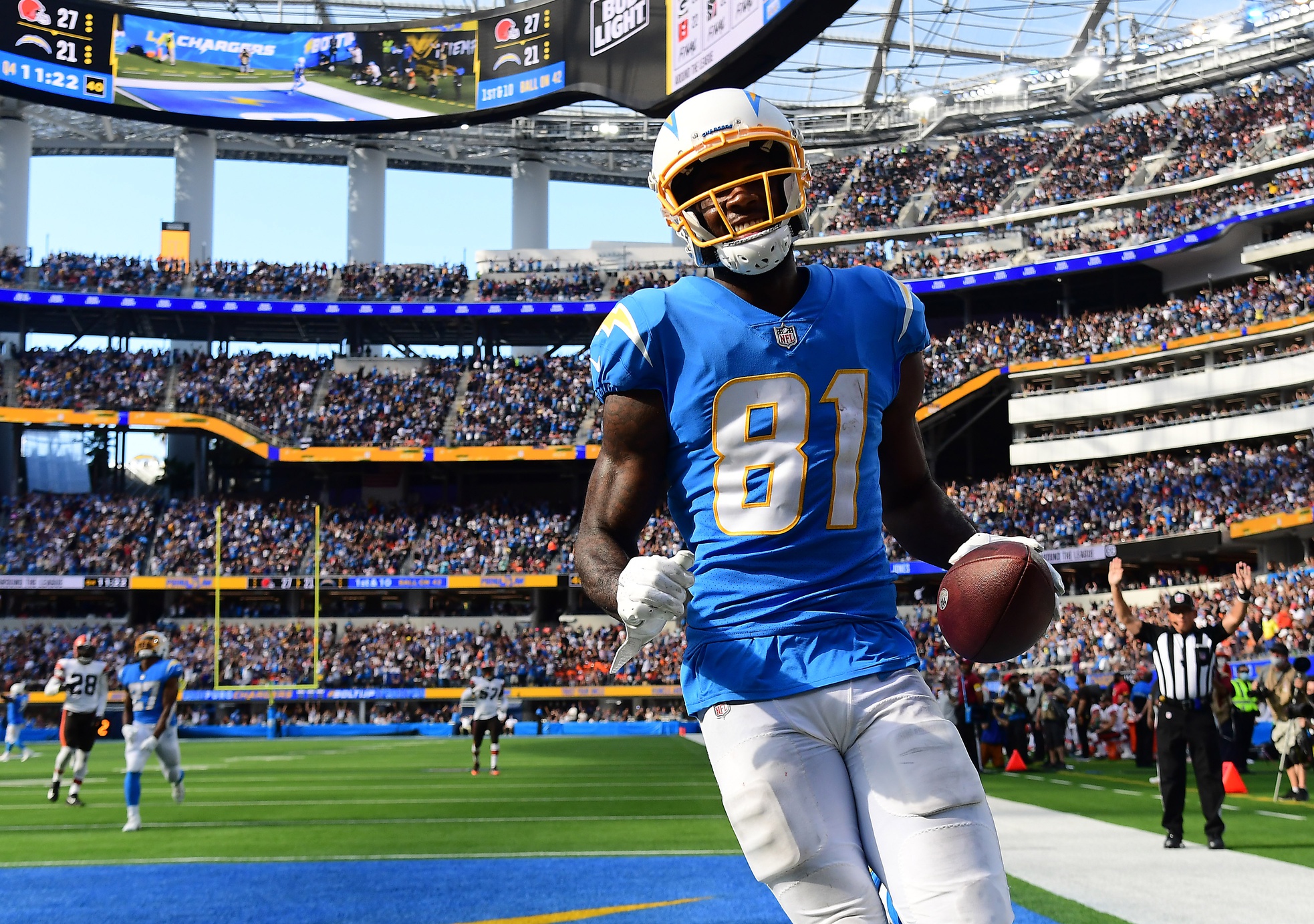 Mike Williams: 2 receptions, 19 receiving yards
This was a disappointing day for the Chargers offense as a whole. Williams fell victim to Bill Belichick's old ways, getting schemed out of the game almost entirely. He's now had two weeks in a row where he's most likely killed your chances of winning. I would not expect this to continue, with matchups against Philadelphia and Minnesota in the coming weeks. Fantasy owners just need to take their lumps for now and hope Williams can get back to his scoring ways soon.
Courtland Sutton: 2 receptions, 40 receiving yards
Sutton's dud of a game this week was a combination of Teddy Bridgewater's (19/26 for 213 and 1 TD passing) low-volume passing attack and Jerry Jeudy (4 for 39 receiving) returning to the lineup. The dominance Sutton enjoyed over the last few weeks is now over, and he'll once again be left to fight over scraps in a less-than-stellar offense. There is still an opportunity to shine here: Dallas and Philadelphia on the schedule next bring the possibility of having to play catch-up for most of the game. As long as Jeudy can stay healthy, Sutton is nothing more than a boom-or-bust WR2 even in those positive matchups.
Others of Note
Tight Ends
Anthony Firkser: 1 reception, 8 receiving yards
Firkser was a popular sleeper candidate going into the season and he is still trying to fight his way towards meaningful usage. He hasn't seen more than 5 targets in a game this year and only has 4 total over the last three weeks. Geoff Swaim (4 for 23 with 1 TD receiving) got the only valuable points at the position thanks to the touchdown this week. Firkser is essentially irrelevant for fantasy unless the Titans suddenly change up their offensive gameplan over the second half of the season.
This is Seals-Jones's first true dud game since taking over the primary tight end role from Logan Thomas. Denver's underperforming defense was able to corral the Washington offense enough such that they were unable to do much overall against them during this game. His snap counts are still best in the league and that level of availability has been a serious boon for his owners. However, his time in the sun may be coming to an end as Thomas has made enough progress to have a chance to play after the Week 9 bye.
Others of Note
Be sure to follow Pro Football Press for more Fantasy and NFL content!